Courtney Johnson-Woods, Principal Investigator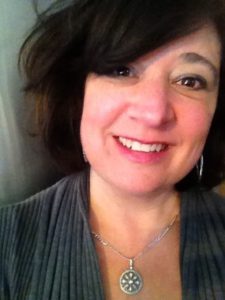 My mother had a favorite saying, "Bloom where you are planted," meaning, make the most of the area in which you find yourself at a given time and flourish. I took that to heart when I went back for my Ph.D. at a seasoned, midlife age! As a mother of three teen boys at the time, my desire to study climate change at an international level was tempered by the reality of the limitations posed by raising a family and living hours away from the UN or many of the nonprofits in which I wanted to engage.
But in my own "planting" in Potsdam, NY, I am surrounded by some of the most beautiful natural landscapes and natural resources, including the Adirondack Mountains and the St. Lawrence River valley. And as I contemplated doing a local project based on logistics for my dissertation, I considered something a friend shared with me years ago about the region: "Growing up here, you were either a lake person or a river person; rarely were you both."
I knew a lot about Adirondack lakes. I grew up in Rome, New York, and we spent many summers renting cottages on Fourth Lake and Eagle Bay, near Old Forge. My father, an avid outdoorsman, flew us in a seaplane to a remote area on the backside of Raquette Lake to camp when we were young with family friends, who later built and now navigate the W.W. Durant on that beautiful body of water. At the age of 23, I met, dated, and later married, a man from Newton Falls, and we spent our courtship and still frequent Cranberry Lake, where we spend a great deal of time boating, fishing, swimming, and camping with family and friends, including our three now nearly grown sons.
I have always been a "Lake Person." Yet, I live right down the road a mere 22 miles from the St. Lawrence River, and I knew very little, if anything, about the River, the Seaway, or the communities that this majestic waterway traverses.
And so it was I decided to focus my energy in getting to know the people and places that are the St. Lawrence. I wanted to get to know what the River means to people who live in river communities, particularly the "ordinary" voices of people who are not actively engaged in decision-making and public policy efforts that have been a major factor in shaping this resource and the landscapes for decades across international borders.
I decided to visit three unique communities first: Clayton, Massena and Waddington, NY.  And in addition to visiting with individuals, I also document using "thick descriptions" after each interview to record not only my observations of the people sharing their stories with me, but also the "site" within these places, as these are unique as well. I also want to include some of my own creative expression as part of these methods, documenting in writing and visually (illustration, photos, and walking maps) these communities as well.
I am known as a good listener. And I have learned that even ordinary people have extraordinary stories. As researcher and author Brene Brown says, "Stories are data with a soul." I am learning that this is very true!
And so, it is my hope that NY River Voices, a project focused on the St. Lawrence River to start, with planned expansion to include the Raquette and Hudson Rivers as soon as my dissertation is complete (Spring 2018), will serve as a way to document our regional river heritage while contributing to a better understanding of people's connections to river "places," as well as the Local Ecological Knowledge (LEK) that may prove important in conservation and decision-making.
Life Narratives are a way for people to "engage" in the collective discussion about an area, a community, or a river as a "place."  Please contact me if you would like to be part of this story, our collective story.
Brief Professional Bio 
Courtney Johnson-Woods commenced this project as part of her PhD dissertation research. An instructor at Clarkson University in the Communication & Media Department, and director of the Writing Center, she returned to graduate school to attain a terminal degree in Environmental Communication & Participation at SUNY College of Environmental Science & Forestry, where she obtained her M.S. many years before.
Her research interests rest with the intersection of people, "place" and the natural environment, including the ways in which decisions are made regarding the use, conservation and sustainability of natural resources, and the resilience of the environment and natural landscapes. This project combines her background in geography (place), environmental science, and communications broadly in examining the ways that people engage and collaborate, including the use of multi-digital media as a creative medium through which people can express their voices. She augments her involvement in academia as a former PR professional and current consultant, focusing in the ag, forestry, and biofuels sectors, as well as B-Corps and cottage ventures dedicated to organic and sustainable products and practices. She is a seasoned trades journalist, writer, and photographer.
Clarkson University, located between the Adirondack Mountains and the St. Lawrence River Valley, maintains a rigorous research agenda regarding the active monitoring and study of area rivers, including the St. Lawrence, the Raquette, and the Hudson. This project as an interdisciplinary, social documentation project, compliments technical and scientific research projects to give a broader understanding of the human dimensions and connections to river environments.
Courtney makes her home in Potsdam, New York, with her forester husband, and together raised three nearly grown sons who have enjoyed living in the region.